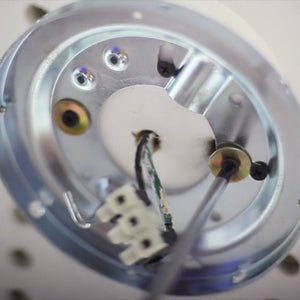 Preparing for a Ceiling Fan Installation
Before installing a ceiling fan, the customer must ensure the following:
Wiring from power source to fan location must be in place.
Ceiling must be painted.
Adequate ceiling supports capable of supporting a weight of 35kg must be installed.


Note: We do not provide carpentry services.
Our ceiling fans are not compatible with wall switch connections as this may disrupt the operation of the fan's inverter. This is similar to the scenario with air conditioning units, which also cannot be connected via wall switches. If a wall switch is present, an electrician must bypass it to ensure constant power to the fan, regardless if you press the switch,



Customers usually install their fans on their own. However, if you do not have an installer available we may install the ceiling fan for you at P1950 per unit
Given that each installation presents its unique set of circumstances, we ensure to have a team of qualified electricians on standby to accommodate any scenario that may arise during the installation of Hayes Ceiling Fans. Despite their ease of installation, it is imperative to have professional support available.

The P1950 fee covers the expenses incurred by our entire installation team, including a skilled technician, a driver, a dispatcher, and administrative personnel, to ensure seamless and comprehensive service.
---