Visit our showroom
By appointment only: 09064152334 (San Juan, Metro Manila)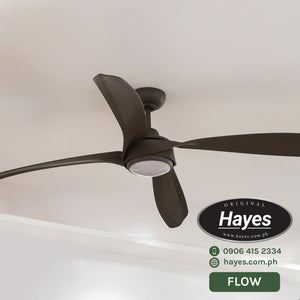 Hayes DC Ceiling Fans
In 2013, our brand, Hayes™, began producing quality ceiling fans from Taiwan. Our goal is to provide customers with ceiling fans that do not compromise on design, allowing them to seamlessly match their well-designed rooms.
Our ceiling fans are of the inverter type, which means they are energy efficient. With a maximum speed of only 35w, if your fan operates 24/7, you will only spend approximately 240 pesos per month on your electricity bill.
We recommend choosing a fan based on its design, as it will be the centerpiece of your room and should complement your interiors perfectly.
Outside of Metro Manila Shipping: APCARGO/LBC
Rates will be computed once order has been completed
Inverter Technology
All Hayes DC Ceiling Fans have inverter motor technology. Providing you with efficient cooling at the fraction of the energy cost. These fans cannot be connected via a wall switch as the fluctuating power from wall switches may damage the inverter/motor.
Shipping
Free delivery for Metro Manila only. For provincial location we use AP Cargo or LBC or your preferred courier, approximately P900-P1,200 per unit.
09064152334
Andrew Chua 0275067990 or buyhayes@gmail.com